VGZ Zorg app: submit a claim within 1 minute, anywhere and anytime
More than 1 million policy holders already have the app

Claiming or paying an invoice, finding a payment, or checking your healthcare insurance: surely you don't want to spend time on these things if you don't have to? That's why we've created the VGZ Zorg app.
4 advantages of the VGZ Zorg app
View your care usage
Submit a claim within 1 minute
View your remaining reimbursement budget immediately
Easy payment through iDEAL
Your healthcare card at hand, always
No fuss with different cards: the VGZ Zorg app means you carry your digital healthcare card with you at all times. Logging in is easy and secure: use a PIN or your fingerprint.
Download the VGZ Zorg app
Ready to use on your phone within 5 minutes.
4,6 out of 5 stars In the App Store
What can I do in the VGZ Zorg app?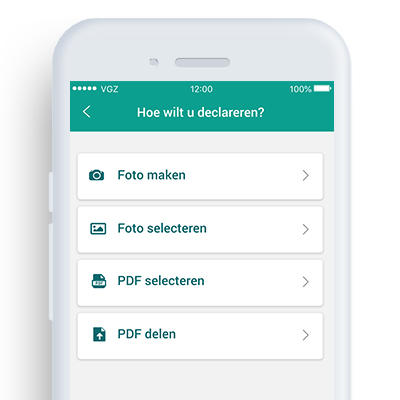 Submit claims superfast using a picture or pdf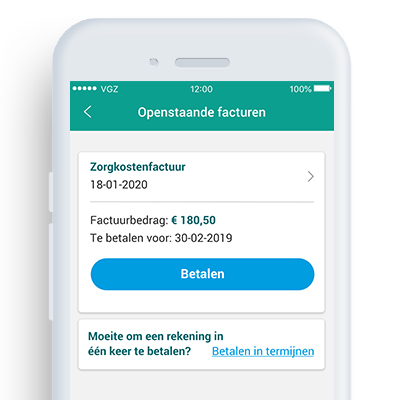 Pay invoices immediately through iDEAL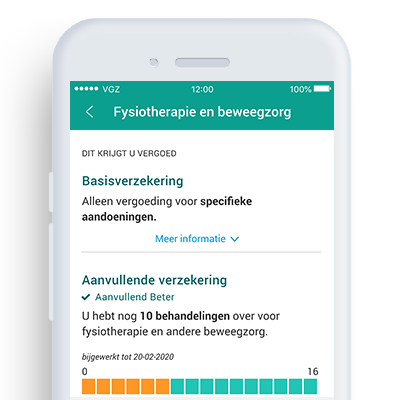 View your remaining reimbursement budget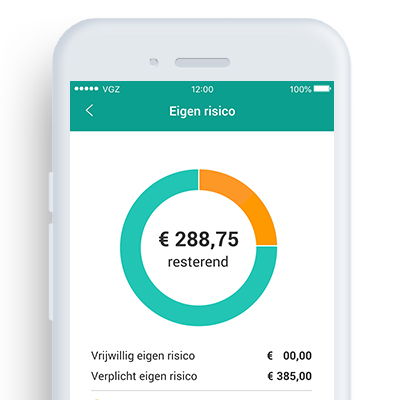 Always up to date with the latest status of your own excess amount
Frequently asked questions
In the app, go to 'Claims overview', 'Claim status'. This will show you whether your claim is 'submitted', 'pending' or 'processed'.

In the app, go to 'Claims overview', 'Care used'. You will see a list of all care invoices for each year. These are the invoices you submitted yourself, or that were submitted by your care provider.

Yes, a co-insured person can also use the app. The co-insured person can apply for a healthcare card, view the policy, submit claims and view the excess amount, for instance.

No, unfortunately you will no longer be able to log in to the app. However, you can still log in to Mijn Omgeving (My Environment) for 3 years after your policy has finished.

Yes, you can. However, you will not be able to use all the functionalities yet. Once your insurance start date has passed, you can use full version of the app.

Check which browser is installed on your Android device.
DigiD supports:
- the pre-installed Samsung browser on Samsung devices.
- the mobile browsers: Chrome, Edge and Firefox. Download and install one of these 3 browsers from the Playstore.
Then go to your settings, default app settings, and set the default browser app to Chrome (Edge or Firefox).
For Android 9: Settings, Apps, Default apps, Browser, Chrome.
For Android 10: Settings, Apps and notifications, Chrome, Advanced and Browser app.
If you already use Chrome (Edge or Firefox), go to: Settings/Apps/Chrome:
Check that the default browser app is not in 'Ziggo safe online' or 'KPN safe' mode. If necessary, change in Chrome (Edge or Firefox).

Energy/battery saving features shut down our app during DigiD registration.
Check whether the energy/battery saving features are enabled and if yes, disable this option. The device's energy-saving setting in IOS 11 (and higher) and Android 10 (and higher) can be found in 'Settings' and 'Battery'). For Android versions below 10, go to 'Settings', 'Device maintenance', 'Battery'.

You are receiving an alert because your operating system is outdated or no longer supported by Google or Apple. Please ensure your device has a newer version of the operating system.